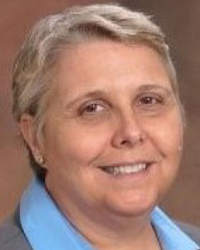 Credentials: DAT, LAT, ATC
Title: Consultant
Company: NA
Expertise Areas:
Clinical Documentation; Collegiate Clinical Operations; Educational Symposium Organization/Management; Governmental Affairs/State Legislation; Secondary Schools Operations/Management; State AT Association Management; AT Policy/Procedure Development
Vicky Graham is an athletic trainer and educator with over 30 years' clinical experience, primarily in the secondary school and intercollegiate settings. She has expertise in clinical operations, including risk management and policy development in both the secondary school and collegiate settings.
Vicky has served as a member of both the Connecticut Athletic Trainers' Association (CATA) and the National Athletic Trainers' Association (NATA) Governmental Affairs Committees. She was highly involved in the successful efforts to pass laws in Connecticut requiring AEDs in schools, concussion education for coaches and athletes, and obtaining statutory recognition for athletic trainers allowing them to administer asthma inhalers, epi-pens, and glucagon in the school setting. She helped initiate legislative efforts to update the Connecticut AT practice act and has prepared and provided public testimony on issues impacting the AT profession numerous times. She has served as CATA President, NATA District One Secretary, and as a member of the Eastern Athletic Trainers' Association (EATA) Executive Board.
Vicky presents frequently to community and professional groups on topics related to concussion, AEDs/sudden cardiac arrest, and injury prevention. She has provided consultation and training for collegiate and secondary school athletic programs, school nurses, guidance counselors and teachers on topics including concussion management, neurocognitive testing, academic accommodations and concussion policy development.
---